Custom Reupholstered Chair In Tribal Sunset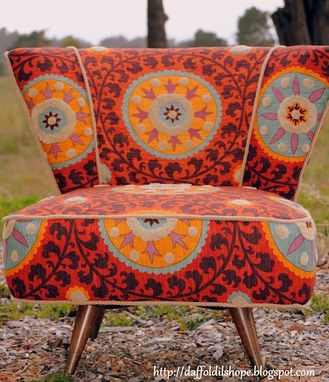 Lifestyle tribal thread sunset from the global glamour collection, is a vibrant design in the Suzani style, in shades of Teal, Lavender, Black, Pumpkin and Clay. Embroidered in emblems in taupe.

I do have another swivel chair similar in shape and size, still in original condition. If you're looking for a pair we could make a similar matching pair.

Thanks to my friend Kate for the wonderful photo.

Lovingly restored. Completely dismantled, sanded and stained by hand. Upholstery includes new foam cushions, new piping, and new fabric.

One of a kind, unique, and beautiful, compare to online high end websites like Horchow, Anthropologie, or Pottery Barn listing chairs similar to these for $1500 or more.

Dimensions: 29"W x 28"D x 26"T.Seat cushion sits 14" from the floor, and is 28" wide by 21" deep.