Custom Shadowbox/Coin Rack Display Case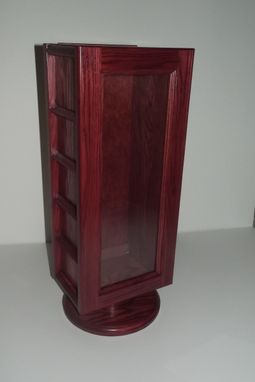 This is a custom coin/rack display case on a turn table. This allows viewing or displaying of coins on either side or display in center to be viewed at different angles.
Materials used were solid select and better Red Oak for main construction of piece. With a 1/4 laminated substrate for removable back.
Solid oak base with 200 pound rated lazy susan bearing for rotation.
Also completed with 1/8 inch thick standard strength glass for display area.
Finish consists of Rich Washington Cherry Stain with 3 additional seal coats (vinal sealer, and Lacquer)all comercial grade long life finish products.
This project is intended for display of coins and any object choosen to display in the center display area.
The style choosen is of its own making as it is specific to the customers request, but could be put in the catagory of Contemporary with softened edges.
Dimensions: 6 1/4 inches deep
9 inches wide
22 3/8 inches tall overal with Base

Size variation depicted by custom order.
All of our products are handmade
by expert makers.