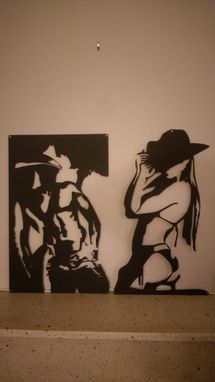 Turn any picture into a custom silhouette!

I can make any photograph or illustration a custom silhouette. Example photo shows the cowboy (made from a photo) and the cowgirl (Made from an illustration).

Some photos work better than others, but I will do a free first-pass drawing to show you what the result is like prior to payment.

Piece will be laser-cut from Acrylic, maximum of 30" x 15". Almost any color is available, including some mirror options. Matte Black is most popular.

Price includes everything but shipping. Shipping will be 9.95 throughout the US. Discounts for pieces ordered in larger quantities, especially if they're smaller.


Note: Example silhouettes for demonstration purposes only, not for sale. Customers shall demonstrate copyright ownership of the images they wish to use.
All of our products are handmade
by expert makers.