Custom Solid Wood Farm House Bench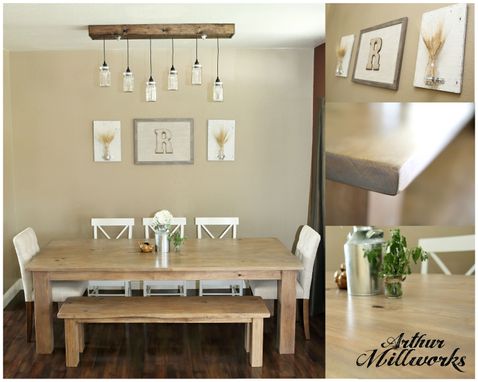 BENCH ONLY LISTING.

Custom farm house table bench made with solid local grown wood and 14 step custom color. Our tables are not made with screws or nails or cheap wood found in most box stores (Douglas Fir, Pine, Poplar. We also do not use screws or nails in any of our builds. We use a solid joinery to ensure the life of the table lasts for generations. Bolts are used for leg attachment/removal for easy shipping and moving.

This listing is for a handmade custom farm house bench built with solid peg joinery that measures 60"L x 16"W x 16"H. We offer multiple sizes listed on the drop down menu, if you do not see the size you need send us a message and we will be happy to customize for you.

Shipping is 100% free, and each table is covered by our lifetime warranty. The wood species for our farm house table is made with solid Alder. Bench top planks are 1" -1 1/4" Thick and varies based on availability. Checks, Knots, milling marks will vary and ensure one of a kind. All knots are color filled unless specified in options. They are flush sanded as shown in images.

Shipping info:
The bench ships with the legs detached. Holes are pre-drilled for easy assembly.
Sizes 48"L x 24"W & LESS - Shipped via UPS Ground, Transit time 2-5 Business Days Signature NOT Required
Size 48"L x 30"W & UP - Shipped via Freight Carrier (please read our shipping policy)

If you have any questions please do not hesitate to send us a message.

All of our furniture is made by Master Craftsman Tim Arthur @ Arthur Millworks. He has been seen on HGTV, DIY, Yard Crashers, House Crashers, and Make A Wish Tree House Builds. He is meticulous with all his work and occasionally sends personalized progress reports during his builds. His excitement for his work shows in every piece he designs and builds.
Made in El Dorado Hills, CA
All of our products are handmade
by expert makers.