Custom Stained Glass Window Design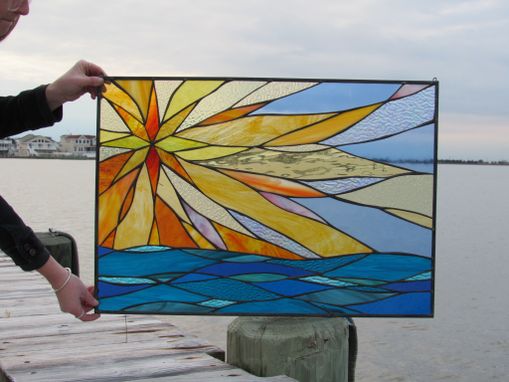 Designing and fabrication typically are all done in our studio located on Long Beach Island, NJ. Custom work is one of our specialties, evidenced by our many happy repeat clients. We have a team of carpenters working with us for all your installation needs as well.

To order custom art and or stained glass, simply contact artist Mary Tantillo to discuss your design ideas. Things to consider are:
*Dimensions (length X width) or 3D sculptural
*Shape (square, rectangular, oval, round, triangular, asymmetrical)
*Colors you would like in the panel, if any and theme or style
*How much backlighting the panel will get (well lit window, interior panel with minimal natural light, or unnatural light)
*Type of frame (metal or wood)

Size, complexity of design, type of glass, and type of frame influence the cost of custom designs. We will work with you to accommodate your budget.

The time from design approval to completion of the project is typically 2 to 8 weeks depending on the size and scope of the art. Projects with multiple panels, requiring installation will most likely take longer. Rush items require an extra fee.

Once initial deposit is paid and the design is approved, we will begin to cut the glass. We offer our clients a chance to see the panel before it is completely assembled and give it a "cut approval". If you would like to make minor changes to the colors etc. at this time, we will accommodate you. Major changes require an extra fee.

A 50% deposit is due, payable to SwellColors Stained Glass, before any significant design work is done. The remaining balance is due upon completion of the project.

STAINED GLASS SHIPPING INFORMATION
Shipping and handling of stained glass depends on the size and weight of the project and where it is going. We will give you an estimate of shipping/delivery costs when you order.