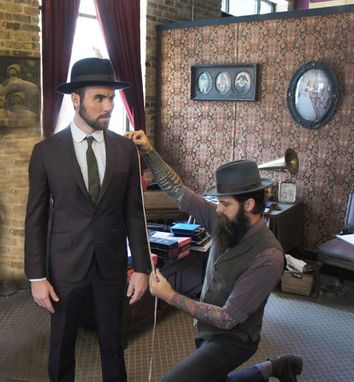 Dandy's Edwardian Sack Suits are designed to have that fabulous old-timey look, but have a fit like a modern day suit. They are perfect for your 1920's or Victorian Wedding, a night out on the town or just to be stylish and set yourself apart from the same ol boring suits every other chap out there is sporting. Choose your fabrics, cut, fit lapel style, buttons, 6 different vest styles, trouser style and over all look. Many fabrics to choose from to customize you Edwardian Sack Suit.

Please contact us when ordering a suit. We will send you a measuring, style and options guide. Please choose your fabric from the fabrics page. Heavy weight wools are pages 1-6 and light weight is 7 on. We are working on getting a measuring video and options up on the site. Sorry for the inconvenience.

If you'd like to proceed with your order in person an appointment is required. Please contact us via phone or the contact us page so we may set that up. We'll also advise you what is required for a proper fitting, collared shirt, you ideal fitting dress pants/slacks, and dress shoes or boots- otherwise fit is not guaranteed.

Made to order. Takes 3-4 weeks for delivery.