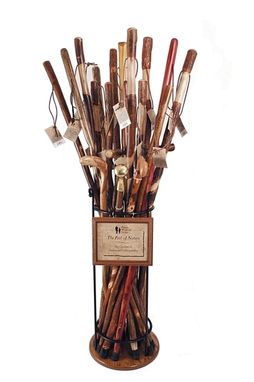 We carry beautiful and elegant walking sticks, hiking staffs, walking canes, trekking staffs and poles. Our handcrafted sticks and canes are made from the finest woods including sassafras, hickory, sweet gum, oak, ash, and iron bamboo. Many people are discovering that walking to lose weight is made more effective by using two walking sticks. Unlike plastic or metal walking sticks and canes, handmade wooden canes have a holistic appeal. Our walking sticks and walking canes are made from the finest solid hardwoods and are both lightweight and strong.

Dimensions: Walking Sticks:
* Children and short adults, a 41-inch.
* People who are shorter than 5'4″, a 48-inch.
* People who are between 5'4″ and 5'11″, a 55-inch.
* Adults over 5'11″, a 58-inch.

Walking canes: our standard 37-inch.