Custom Wedding Invitation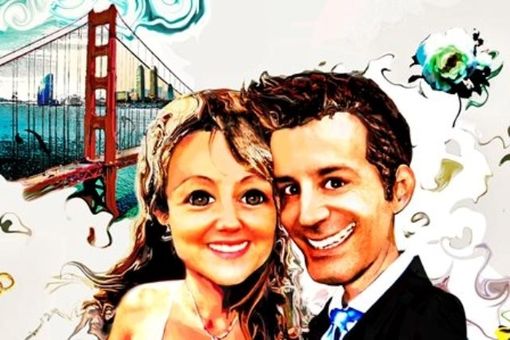 I create custom paintings of the bride and groom suitable for printing in the wedding invitation.

Send me referent photos and explain me all the details you want to blend in the illustration and I will create an original and special Wedding Invitation. You can also choose the style preference you want (caricature, portrait, etc).

Learn the story of this Wedding Invitation:
​Oriol and Anna are a couple from Barcelona. Currently they are living in San Francisco but they decided to get married in the city where all their family and friends live, Barcelona. They wanted a wedding invitation that reflected their identity and was original. They explained their story to Artistic Present and this is the result.
Anna and Oriol are in front of the Golden Gate Bridge, the most iconic landmark of San Francisco, but the skyline is Barcelona and not San Francisco. Our idea was to capture the moment that the couple are living right now, living their life between the two cities.
Another important feature of the picture is the W hotel, where the actual wedding took place.