Custom Wedding Or Anniversary Subway Art Sign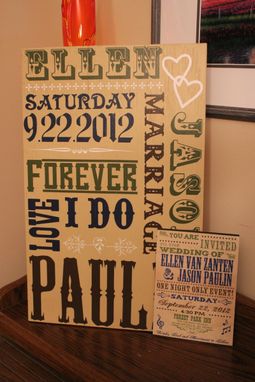 12x20" sign, perfect for a wedding gift, or an anniversary gift, or a special addition to your home's decor.

When you purchase, please include in your comments: First and Last name, wedding day and date, and 4 words/phrases (in the example they are: marriage, forever, I do, love). Mock-ups are available upon request, if you'd like to see how it will look first.

It is hand-painted reclaimed wood, with vinyl words. Please note: because of the nature of reclaimed wood each sign is unique and will have it's own unique texture. The sign is coated with sealant to protect it and to make dusting easier. Also includes a sawtooth hanger.