Customers 4' Tall Fencing And Gate Installed Down A Grade Or Slope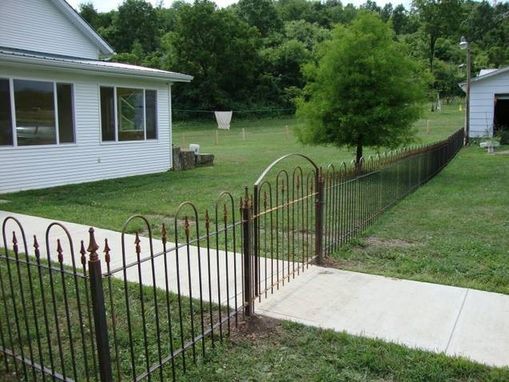 This customer loved our wrought iron fencing. Notice we made a wider 4' gate to span their sidewalk. Flanking the gate and at the corner are our metal posts that are made to fit exactly. Many of our clients use these attractive posts down their fence run. It is not necessary but placing a post every 2 or 3 sections make our fencing even more impressive.

The challenge here was the slopping yard. Not a problem with our connecting metal fencing. Each section is 43" long so it drops easily to the grade of the yard. We can offer even narrower sections down to 12" for a steeper yard

We have several different styles of gates and our fencing comes in 3', 4', 5' and 6' heights. If you are needing your home or business enclosed with fencing we can build large driveway gates to match.


Dimensions: 4' tall fence with 4' wide matching gate anchored with 1.5" finial topped square posts