Customized Classic Oak Flag Display Case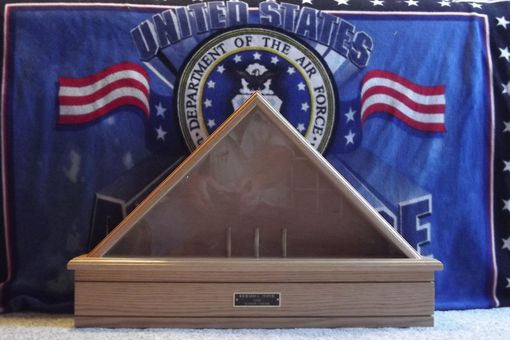 Solid Oak Flag Display case, that is custom made to fit the 5 X 9.5 in. burial flag. Case has been specifically designed to put a name plate with words of your choice, usually the name of the person that it was given in honor of, the date and branch served.
Name plates come in several different designs, from Black Lacquer finish to brass or gold.
This flag case has a unique characteristic as it has a wrap around base mounted or loose with viening around perimeter at the top and bottom.
This unique design allows for a better display of your loved ones flag.
We finish our flag cases with a 4 step finishing process that gives this case an heirloom quality that you will be sure to pass down for generations to come.
All of our products are handmade
by expert makers.
Jennifer M.'s review

• May 9th 2017

Tim is truly awesome. He work is really amazing. I gave him my idea for a flag case and he created it perfectly, just how I imaged it. Thank you Tim!!

Kris H.'s review

• Jun 19th 2014

Tim did a superb job of creating my project. If you are current or retired military (or even EMT/Firefighting/Law Enforcement), I highly recommend him for your woodworking needs (shadow boxes, coin displays, etc).

Only thing I marked him down on was timeliness since I seem to have caught him during a backlog, but I trust he would have been much faster if I had not requested at that time.

Very polite, professional, and friendly. If I sent him a message, I could pretty much guarantee a response within 1-2 hours (open communication is a must-need for online projects). His craftsmanship is great, and he works with you to come to a price that works for you. I will definitely be using Tim again for future projects.