Customized Soy Candle,Businesses,Animal Rescues, Ministries, Customer Gift, Event Swag, Gift Candle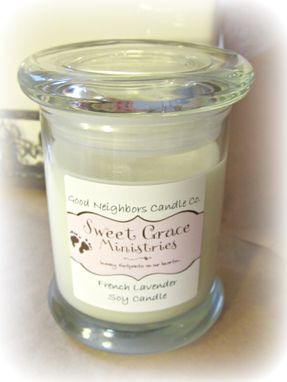 This is a prototype listing....shipping and turnaround times will vary depending on size of order and development time with your organization.

This is a very wonderful jar with a fitted flat lid and is just one option available to you for customization with your fragrance options, label design, and colors.

I'm currently working with a dog rescue, adoption fund raising and an infant loss ministry to produce candles exclusively for them. Each is very special in their own right and doing amazing work.

If you are a ministry, rescue, salon or other business entity I would be delighted to speak with you about how you can use Good Neighbors Soy candles to say just the right thing. Maybe you are looking for a unique customer appreciation gift or a fund raiser that reminds people of you daily.

Send me a note with your budget in mind. Price per item is best and I will show you what I can do! Tea lights begin at $1.50 each in cello with your custom tag.

A fun project produced one Christmas were tea lights in Frankincense and Myrrh for distribution to the congregation bringing to life a point from the Christmas sermon.

No project is too small or too large. I'm up for the challenge. Don't hesitate to ask.


If you've burned soy wax you know how awesome it is. It burns longer and cleaner than traditional paraffin waxes. I use hemp wicks so you are never burning metal when using the jar candles.