Cut Crystal And Sterling Silver Chandelier Earrings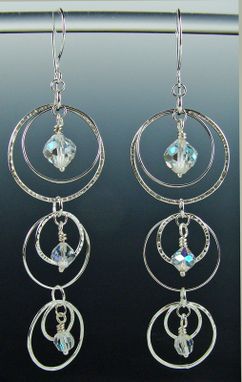 These spectacular chandelier earrings consist of multiple hand-forged rings embellished with aurora borealis crystals from a high-quality vintage necklace. Originally designed for a runway fashion show featuring high-end couture, the earring sold almost immediately. they really provide a bold look that is hard to capture in photos.

Upon close, examination, one can see that the facets on the crystals have been cut by hand, giving the earrings an artistic flair and depth of meaning beyond mere flash and sparkle. If you appreciate something with a little history blended with of-the-moment style, this design might be right for you.

The earrings in the photo are just over 3" long and about an inch at the widest point, but can be made to any length you prefer. The number of ring pairs can be increased or decreased, as you like.
Dimensions: Approximately 3 1/4" long and 1" wide