Brazilian Cherry Cutting Board Personalized With Custom Engraved Logo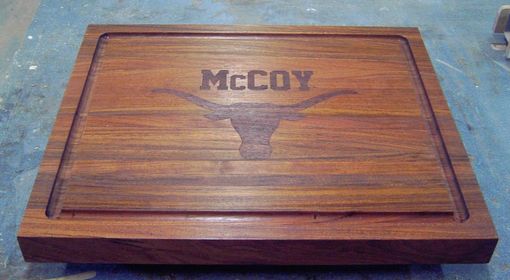 Cutting Board made with Brazilian Cherry edged glued together. Board is 20" wide, 24" long, 2" thick, with juice groove. Customer wanted a custom logo engraved on the face of board. Logo is the Texas Longhorn with name laser engraved on the face side of board. Board is finished with a (food safe) butcher block oil . Engraving is not included in price that is extra about $40.00 covers engraving cost. This is one solid and heavy wood block. This board weighs about 35 - 40 pounds. Shipping cost is about $75.00 depending on zip code.
All of our products are handmade
by expert makers.
Michael T.'s review

• Nov 11th 2022

I just opened the box to check out the work performed. What an amazing cutting board! The size and artwork on the finished piece is amazing. It was great working with the artist!

John D.'s review

• Sep 18th 2020

I couldn't be happier with the product. Awesome craftsmanship and good timing in delivery. Thank you very much. My wife loves the custom cutting board. No-one else has one like it.

Lbrock1106's review

• Mar 15th 2016

Beautiful, flawless workmanship!
Simple communication.
Uneventful shipping experience.
Overall Memorable experience!

Thank you!

susan h.'s review

• Aug 29th 2016

We received the cutting board and I couldn't lift it. I guess we didn't realize how heavy it would be. The real issue was that the surface was somewhat rough and there were burn marks in the lip all around the board. I guess we expected it to look a little more professional.