Daffodil Soy Candle, Fitted Lid, 8 Ounce, Yellow, Spring Candle, Flower Candle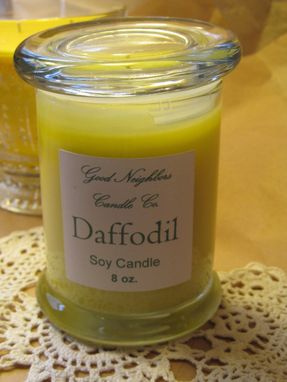 Spring in a jar. This true fragrance is light and fun. The bright yellow coloring in the soy wax brightens any room you sit it in.

Soy wax is much cleaner and longer burning than traditional paraffin wax. Simply clean with hot soapy water when the candle has finished burning. I love Dawn dish detergent for cleaning it out. Soy wax is a natural vegetable wax. I think you'll like it if you haven't tried it yet. If you have burned soy candles then likely you've already decided that there is no looking back.