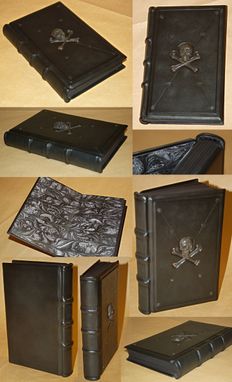 A 6x9 fully blacked out leather bound journal with over 250 pages to log your nightmares.

Just about everything on this is black with the exception of the marbled paper which is a grey and black design on antique white stock.
The text block is a quality black card stock which is hand sewn with black thread. The cover is wrapped in high grade black Nappa leather and fitted with the inset warning of the skull and cross-bones. Raised paneling on the front and true supported cord on the spine. Hand sewn head bands with black silk thread and even the gluing that was done, was with a black tar colored PVC glue.