Dentist Office Moving Kinetic Art Rolling Ball Steel Sculpture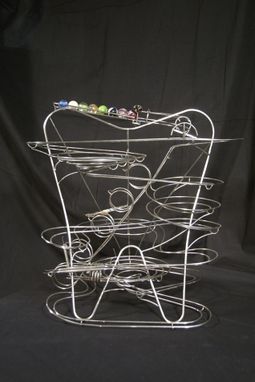 Titled #30 Molar, this wonderful, playful piece of kinetic art measures 19" x 20" x 15.25" and is made entirely of TIG-welded stainless steel.

One of the great characteristics of rolling ball sculpture is the ability to incorporate specific client-requested elements into the piece itself, giving the work complete individuality, yet tying it directly to its owner. In this case, the client requested "something toothy," and I was more than happy to oblige by creating a custom frame of 1/4" solid stainless steel. I also suggested that, since dental instruments are stainless steel - perhaps we could add them directly onto the piece and even make them functional! The client was very please with this idea, and you can see the excellent results in the video section.

It features a hand-actuated gate (with dental mirror lever) that supplies marbles to the topmost track that then divides into two tracks via a tipper-style track splitter. The marbles subsequently react with numerous fun elements including two spirals, a teeter-totter made of dental instruments, four and one-half loops, and plenty of curving and twisting track.
All of our products are handmade
by expert makers.