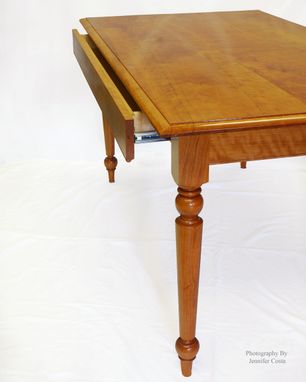 Custom writing desk in solid figured cherry with Federal-style turned legs & full-front, full-extension drawer. The drawer is figured maple and has no visible hardware. It is hidden by appearing as a faux apron.The drawer also includes a pencil tray.
The finish is hand-rubbed tung oil/varnsh.
Dimensions: The desk's overall dimensions: 34" width, 62" length, 30" at table height (25" at knee height.
The drawer dimensions: 25" depth, 44 1/2" width.