Desktop Steel Kinetic Rolling Ball Sculpture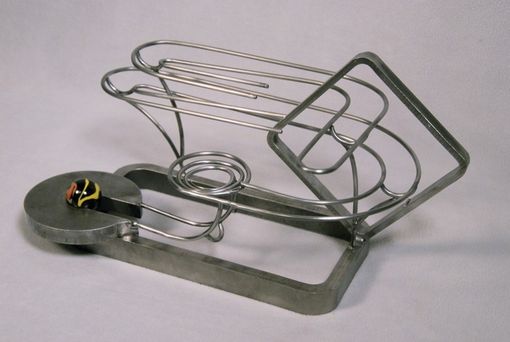 Ringer is a small desktop sculpture using one 1" marlbe as its rolling media. It has been carefully hand formed entirely of carbon steel using 1/8" rod for the track. Particular elements of interest include the use of scrap steel pieces that not only add to the piece visually, but also contribute an audio feature as well. The sculpture contains a single track guiding the marble around curves, against a piece of scrap steel which produces a bell-like tone, into a small sprial and finally to a scrap steel catch base. Though the sculpture is carbon steel it will retain its enjoyable color and lustre as the entire piece has been electrostatically coated with a special mixture of semi-gloss clear to prevent it from ever rusting.
Dimensions: 6" x 11.5" x 6.5"
All of our products are handmade
by expert makers.