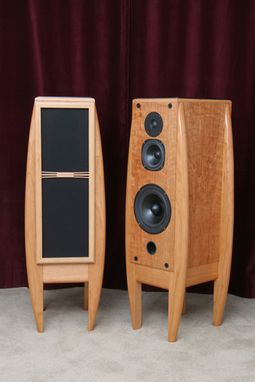 This version of the Diablo is made from cherry with a black granite top. The grill detail has a pencil thin black inlay.
Audio Nouveau speakers are not just aesthetically attractive. When almost everyone that has heard them, feel they are THE best sounding speaker they have ever heard. This includes recording and sound engineers as well as professional muscians. Audio Nouveau speakers are made from the finest drivers (woofer, midrage and tweeter), crossovers and cabinet integrity.
Why 'Diablo'? When I apply finish to the speaker they are usually upside down. Whenever I turned to look at them, the legs looked like horns.
Dimensions: Since the tweeter handles the most directional frequencies, it should be at ear level when seated. That makes the speaker 40" tall, about 14" deep and 11-13 wide depending on leg style. Weight- approximately 80 pounds.