Dining Table And Benches Reclaimed White Oak With Hairpin Legs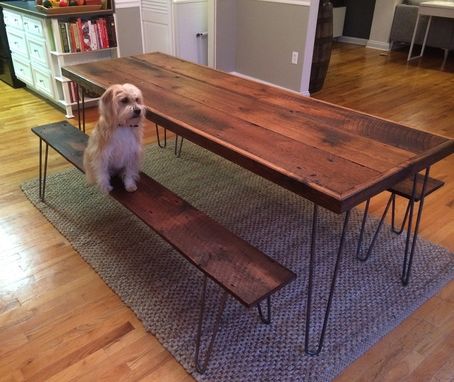 This piece was designed for a client who was interested in a table using antique reclaimed wood, contrasted with modern hairpin legs.


The tabletop and benches are composed of solid slow-growth white oak. The table is trimmed 1 1/4" x 2.5" of the same.

Much of the wood used for the tabletop and both benches is quartersawn.

-Dimension of the dining table are 84" X 32" X 32"
-The Benches are 6'6" long by 10" wide.

-The Hairpin Legs are composed of unfinished steel.

All wood in this project is 100% solid slow-growth white oak reclaimed from a horse barn in central KY.

Finished in dark walnut danish oil
All of our products are handmade
by expert makers.
David D.'s review

• Apr 28th 2016

My wife and I had been looking for the perfect table for our breakfast area, and we didn't just want a table, but a place where family and friends could gather and make memories together. When I found the CustomMade page, and William Ney's table, my wife said, "That's it!" The proposal was acceptable, and we immediately committed to buy the table and benches. My wife was hosting a baby shower for a dear friend the weekend after we got the table. Everything with the delivery was perfect. It was a snap to assemble and we are enjoying it already and can't wait to celebrate it with our friends and family. After conversing with Will several times during the process, I know that he is not just a furniture-maker, but a craftsman and an artisan. His work is unique.
I would heartily recommend William Ney's work again.

Doug F.'s review

• Feb 5th 2017

We ordered a 84" reclaimed wood dining table with two benches from William and we couldn't be more impressed. From the final finishes, to the shipping, to the assembly, we're thoroughly pleased with the work. A great value, better than anything we could have bought at West Elm or other big box stores. Thanks Will!