Diy Cabinet/Welcome Center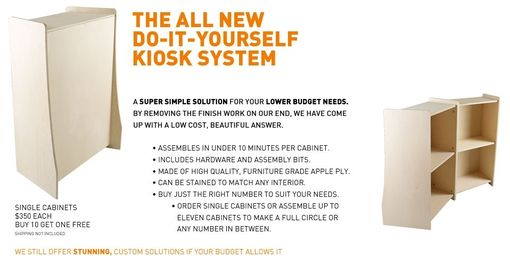 We are proud to announce our brand new do-it-yourself church information booth design. After months and months of turning our customers away due to price concerns we have decided to come up with a unique do-it-yourself information booth system. By removing the custom finish work on our end we are now able to pass those savings on to you, giving you complete freedom to customize your information center to fit your specific needs.

Each cabinet is crafted of high quality, furniture grade apple ply giving you a stunning finished product with a lovely wood grain allowing for a very nice stained piece of furniture. No one will know that this piece of furniture was not custom designed just for you. You get the best of both worlds, an inexpensive solution with a custom look and feel that is super simple to assemble.

Each cabinet has only 6 pieces for assembly and can be put together by almost anyone. We have taken the guess work out and designed these cabinets to be practically dummy proof. Everything you need for assembly comes in the box (except a screw gun) and includes detailed instructions for a spectacular finished product.
Product specs and information:

• Each cabinet has a counter height of 42″ Front face is 32″ wide, back face is 24″ wide.
• 18″ deep at the bottom and 15″ deep at the top
• A Full Circle information center is 10′ on the outside and 8′ on the inside
• An eight foot tall, 10′ circle floor mounted aluminum truss can be ordered for $3500
• Literature holders are also available at an extra cost. We offer a large variety and sizes mountable and table top.
• Bottom shelf is mounted 3″ off the ground
• Middle shelf is mounted at 22″ off the ground
• Constructed of furniture grade apple ply
• Can be stained (recommended) or painted to match your interior
• For interior use only unless sealed for outdoor use.
• Can be used as individual cabinets or assembled from two for a small curve to eleven for a full circle.