Doggie Boneyard Treat Jar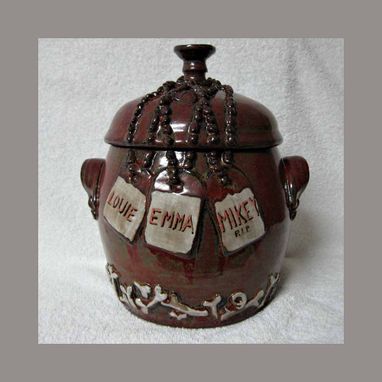 This piece was commissioned for a couple with three dogs. The home decor leaned toward "edgy" so the treat jar had to fit in. The idea of a boneyard seemed suitable. Additionally, the wife made all of the treats for their dogs. The jar had to be large enough to hold a good sized batch of treats. It stands about 12 inches high and about 10 inches in diameter, not counting the lug handles.
The treat jar was fired to stoneware temperature for durability. Sadly, just before shipping, we heard that one doggie has passed away. To honor the love of their pet, R.I.P. was added and the piece was re-fired.