Doris Greener's Doll Case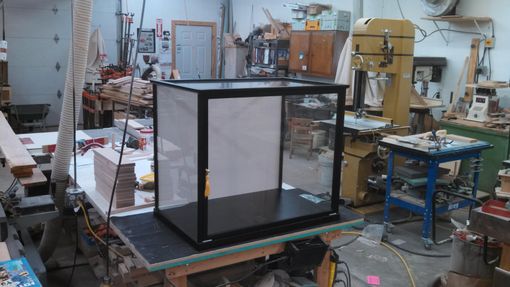 Here's the original request we received: I would like the door to be on hinges, wood trim to be finished in black lacquer. Was not able to add photo.

Here are some details on the project from the maker: Hi Doris,

I am very privileged to offer you the following proposal for you new home for you dolls.
CM commissions and hardware costs did escalate the price just a bit.

Project description as follows:
1. Wood Frame approx. 3/4 inch Black lacquer Finish.
2. Beige finished back. (Oriental theme if located)
3. Glass on the sides, top and front door. (tempered)
4. Swing open front door.
5. Dimensions are:
32" wide (side to side) x 21" deep (front to back) x 28" height (bottom to top) - all exterior dimensions.
6.Solid bottom and solid back.
Customer request below in (-)
(Is it possible to paint the inside of the back a light beige color?)
This Display will be designed and built as close to original as possible with pictures provided.
Also included will be pivot style hinging, Hand Crafted Custom Gold tassel on small wood knob. and catch to hold door closed.
Ship date is an approx. and will keep in touch with you Doris if we need to adjust this time due to scheduling.
Please let me know if I have missed any details that you may see that pertain to your project Doris.
With that said I am very much looking forward to serving your needs in creating this piece for you.

In your continued service,

Tim J. Ziegler
Ziegler WoodWork & Specialty
All of our products are handmade
by expert makers.
Doris Greener's review

• Aug 28th 2014

We were very pleasantly surprised with the finished product - a doll case to house a couple of very precious dolls made over 45 years ago by my mother. Customer service was excellent - Timothy Ziegler kept us posted every step of the way as the project progressed. The doll case unfortunately arrived with one completely "shattered" glass. Instead of risking sending it back, Tim provided the necessary information for us to replace the glass ourselves. He offered to pay for the replacement cost and the cost of our time, which we did not accept. We are completely and totally satisfied with the finished product, Timothy exceeded our expectations!!!