"Dotted Wall Vase In Aqua Marine"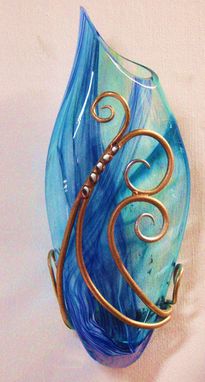 One of our very first wall vase designs. Once again made from recycled mild steel formed to fit the hand-blown glass vessel. On this scale we can add low wattage lighting (to some designs) to luminate the aqua marine color pattern. At this lower wattage these sculpture make great accents serving as subdued "night lighting" For greater wattage/lumins we increase the size of the vessels only adding to the potential for design variation.
Dimensions: 14" by 6.5 " by 4"