Dr. Prometheus Evergreen's Blood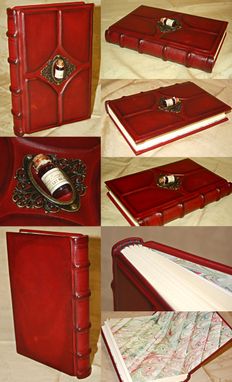 Dr. Prometheus Evergreen was a struggling french mathematician that was fascinated with biology. He created a formula that could be introduced to a person's blood and would allow the cells to intake more oxygen. It also gave the body miraculous abilities. Heightened sight, hearing, strength, speed, and the ability to heal rapidly. Abilities that the human species was not able to handle, for these abilities are within others from far away that are far more advanced and evolved.
Dr. Prometheus was hit with a sense of fear, for if the military got their hands on this, it would surely be used in the field.
His fear was fueled by the fact that forty-one attempts to perfect this serum had ended with side-effects that transformed his body into a disfigured creature. He hides this behind his clothing during the day, but as night falls, the remainder transforms into something from another world.
This 6x9 leather journal I present, is the forty-second serum sample. It is the final journal that contains the perfected serum. He gave this book to his youngest daughter Odessa and pleaded with her to never reveal it to another soul.
He had cured his disfigurement and now, was more advanced. Unfortunately, the heightened senses eventually drove him mad. He could not distinguish between fantasy and reality and never gained control of his own strength. The abilities began to multiply and now turned to ailments. Two months after he gave his daughter the journal, he took his own life.
This journal was found in a top secret file hidden away on a military base one-hundred and forty years later. How ironic that Odessa would join the military as a nurse and work her way up to top secret clearance. She worked on some of the most secretive biological experiments during World War I & II.
Lot NO.42 was one of them.