Dragon Fantasy/Steampunk Foam Collar/Headband/Hat Band - "Bite Me" Text.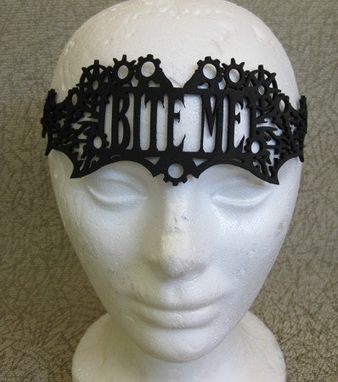 I have created this collar from foam.. This is a black color 2mm foam acid free and soft on the skin.

Completely safe for children, 3 years old and up, to wear because there are no shape or hard edges. Not recommended for children under 3. If you need an extra small or large collar please message me and I can customize the size for any need.

You can wear this collar around your neck, on your hat, or in your hair. Please request if you would rather have an elastic cord or ribbon to tie.

Can make as many as you need, and contact for quantity discounts.

The foam comes in Black, Navy Blue, Purple, Grey, Red, White and Yellow/Gold. Colors may different from pictures slightly. If you wish your collar in a different color, please let me know.

Thank you for your views. Have a great day.