Dragon & Phoenix Carved Rings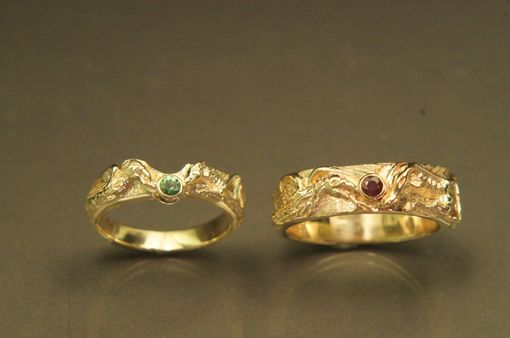 custom wedding bands in 14kt yellow gold. Each band has a unique dragon and phoenix image carved holding a colored stone. A ruby for the mans ring and a green garnet for the woman's band.
All of our products are handmade
by expert makers.
Michelle's review

• May 3rd 2013

Frank Goss is just amazing. He was exceptionally professional, courteous and understanding in all of our dealings and always made sure he had the details just right before going forward. We got the rings on time and they are absolutely gorgeous! The picture we received in advance doesn't do them any kind of justice - they're just breathtaking! We're very glad we went with Mr. Goss' proposal. We gave him a challenging project and he did an amazing job for a very reasonable amount of money. All thumbs up!