Dragons Breath Opal Victorian Necklace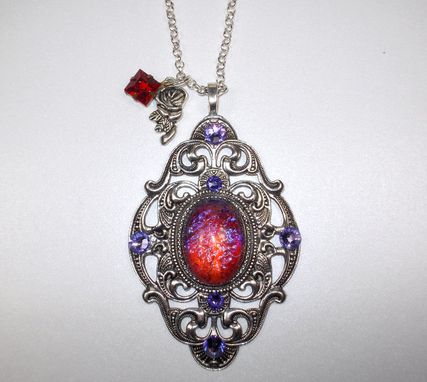 I love this pendant, and you will, too! The centerpiece is a 25 x 18mm Dragons Breath Opal. These glass stones have been made in the same factory in the Czech Republic for over 50 years. The color is red with iridescent blue veins that glow when you move it from side to side! A camera just can't capture its beauty!

The glass opal is mounted on a silver plated solid brass ornate filigree setting that is a very large 3.25 x 2 inches. I placed 6 tanzanite colored Swarovski crystals in the setting. It also has a silver plated rose charm and a vintage square cut red Swarovski crystal charm.

It comes on a 24 inch sturdy gold plated chain with a lobster claw clasp.