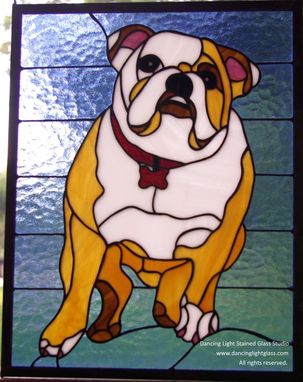 World meet Duke. Duke meet the world. This charming little bulldog was my first pet portrait. This 13.5"x17.5" panel is constructed in the Tiffany copper foil method and framed in sturdy zinc framing material. Strong hanging hardware has been soldered into the frame and as usual, chains and hooks have been included for hanging.

The first step in the process was determining a size for the panel. Duke's owner took a good look around his house and decided in which window he wanted the panel to hang. That helped determine the size.

Duke's distinct markings allowed for a very distinct pattern. All of the focus is on Duke with the background serving primarily to highlight the glass chosen. There are more than seven different types of glass used on Duke alone, plus the glass for the collar and the background. Though difficult to see, the glint in Duke's eyes and his name on his name tag have both been hand painted on and fired for permanence.

I just love Duke's little underbite! Please ask me about designing a pet panel for you.
All of our products are handmade
by expert makers.