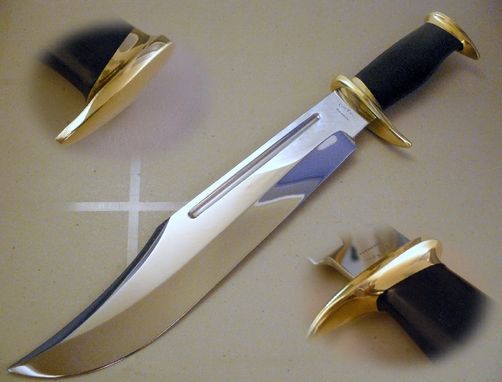 This Dundee Style Bowie knife is made of CPM 154, it's a large knife that feels very light in the hand, the front brass guard is shaped like a crocodile tooth, handle is very black Indian Ebony. The front guard & pommel are angled and recessed to create a handle that's both visually striking and providing a secure grip.

Dimensions: This Bowie knife has an 11" blade with an overall length of 16" 1/4"
All of our products are handmade
by expert makers.
Thomas O.'s review

• Mar 23rd 2016

I bought this knife as a last resort in Bear Country! It will become a family heirloom. Quality made and can only increase in value. Figure if I have to use it, bear will win, but If I get him in torso, he will go with me eventually! Lethal weapon. Could not be more pleased, and Gill is great guy!

Scott T.'s review

• Nov 24th 2015

I am very happy with the final product this exceeded my expectations it is by far the coolest knife I have ever seen and will be passed down in my family for generations to come thank you!