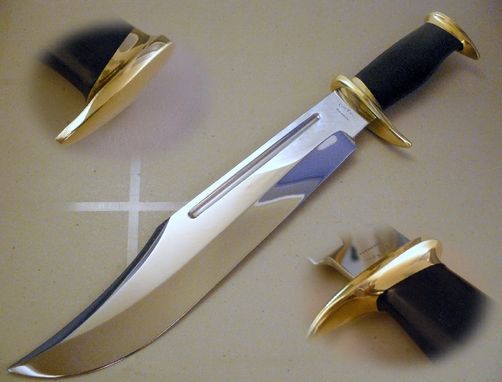 This Dundee Style Bowie knife is made of CPM 154, it's a large knife that feels very light in the hand, the front brass guard is shaped like a crocodile tooth, handle is very black Indian Ebony. The front guard & pommel are angled and recessed to create a handle that's both visually striking and providing a secure grip.

Dimensions: This Bowie knife has an 11" blade with an overall length of 16" 1/4"
All of our products are handmade
by expert makers.
Steven G.'s review

• Feb 14th 2016

Gill was a pleasure to work with. Very understanding. Communicated with me every step of the way. Sent pics through out project. And the final product is outstanding very happy with knifedefinitely will have him work on another knife for me. Steve

Jerry M.'s review

• Jun 28th 2012

I had known of Gill and his amazing talent for a couple years. Another collector had 1 of his skinners and the minute I laid my eyes on it I knew it was special! The craftsmanship was 2nd to none! I contacted him and commissioned him to create a jewel like my friend had - he told me how much and when he could complete the knife - AND he did exactly as he said and I still have that knife as well! As time went on I had him build others and then ask him about the Bowie - what a KNOCKOUT here - Gill never ceases to amaze me with his talent! To say I am pleased would make me a master of understatement!