E.J. Lynch Shorty (Custom Made Guitar)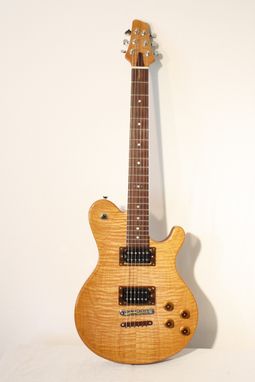 This is a VERY special E.J. Lynch guitar ! This is Shorty model, which features just what it says, a shorter, smaller body & headstock. It has figured maple top & back with a mahogany core ! The body is about 1.5 inches smaller than normal, and the headstock is about 0.5 inch shorter as well !
It has NECK THRU design with a mahogany neck & rosewood fingerboard. Packing a pair of awesome Seymour Duncan '59's, this guitar has all the punch and beautiful tone of a LP, but a smaller and more easily maneuverable body !
Dimensions: "25 3/4" in Scale length
22 Frets