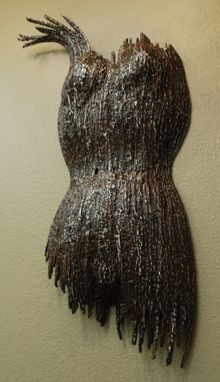 Size: Approx 18" x 45" x 6"
Weight 45lbs

Material: Welded Steel

Shipping is included.

This is a wall scupture representing a woman figure that Johnathan made. It is made from 1/4" steel bar, shaped into the figure, and the rest is weld. Each piece of 1/4" bar is welded to the next. It gives a "bark" effect, and resembles so, as well as the small holes and knots you would see in tree bark.

Truely an amazing work of art!