Emperor Penguin Salt And Pepper Shakers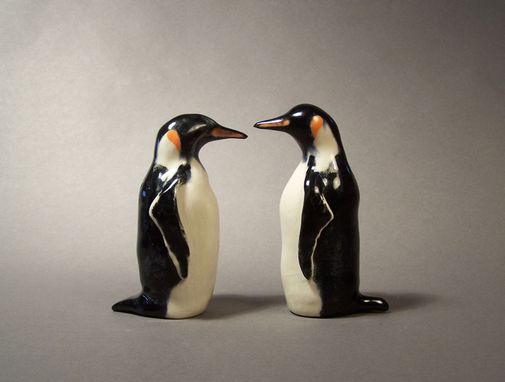 A friend of mine went on vacation to visit with penguines. She came back with wonderful pictures and memories, but lamented that there were no little penguine sculptures to bring home with her. So I decided to make her these porcelain salt and peppers for a combination birthday and Christmas present from one of her pictures that she gave me, knowing how much I love penguines too. Years ago, I made a "family" of penguine jars.
My friend displays them on a translucent light turquoise small tray on her dining room table and I understand they get a lot of attention and admiration! The tray makes them look like they are sitting on an iceberg. When I make others, I would like to design and make an "iceberg" tray for them to sit on, and this is the reason for the differences reflected in the costs. They are a little over 5" tall.