Ems Medallion Landscape Picture Frame Is Designed To Hold A 4x6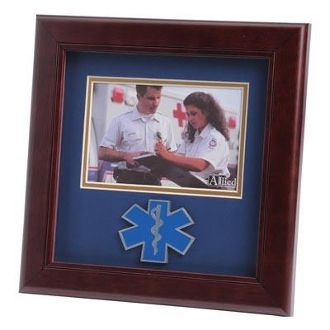 There are people who come into our lives and serve us, even to the point of saving our lives. We don't ever think much about them until they are with us, and when they are, we are so thankful that they have come into our lives. These people are EMS technicians. Perhaps you are one of these wonderful people who race to the scene to treat those who are injured. Perhaps you have someone in your household who is an EMS technician. Whatever the case may be, celebrating what EMS techs do for us all is something long overdue. One way to celebrate these everyday heroes is to frame a photo of them in a specially designed EMS Medallion Landscape Picture Frame. This frame is the perfect way to show the world just how much you value those who put themselves in harm's way to serve others. Each EMS Medallion Landscape Picture Frame is designed to hold a 4 X 6 picture, which is set into a double layer of blue matting with gold trim. The frame is made with mahogany colored wood, with the outside dimensions measuring 10-inches by 10-inches. This beautiful picture frame sets any 4 X 6 photo of your choosing directly above the recognizable EMS symbol centered in the matting at the bottom. All of this is protected by a thin sheet of glass, making it the perfect display frame for your photo. It's not every day that someone becomes EMS certified. Perhaps you have a son or daughter or loved one who has recently become one. After all of the classes and the difficult tests, they are now ready to go out onto the streets and treat the members of their community who become involved in a accident or seriously ill. This is a very noble thing to do. It is completely understandable that you would be proud of their accomplishment. It is also understandable that you would want to celebrate that accomplishment. Maybe you hadn't thought about how you would do it. Now you can rest easily. You have found the perfect way to simply yet beautifully honor your EMS loved one. The EMS Medallion Landscape Picture Frame is the perfect way to display your pride. Why take any old picture frame from your local craft store when you can frame any 4 X 6 photo in a specially designed frame that has been handcrafted for just this occasion. This special frame will immortalize that special moment better than anything else. And isn't it worth it?
All of our products are handmade
by expert makers.