Encircles-Walnut Door With Circles Inset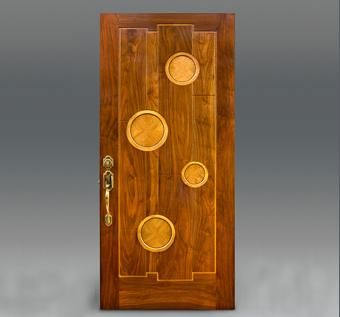 Unrivaled uniqueness in this 'show stopping' door entitled "Encircles".

A marvelous door of solid stave-core cloaked with panels of Walnut. Each detailed Walnut panel has a 1/8th inch round over edge and a 3/8th inch recessed Quartered-Sycamore reveal.

Four Quartered-Sycamore discs of assorted sizes are quaintly inset amongst the Walnut panels. Each individual disc is banded with Walnut then encircled by a raised Quartered-Sycamore edge.
Dimensions: 40.5" (H) X 20.50" (W) X 20.50" (D)