End Table Dog Crate Medium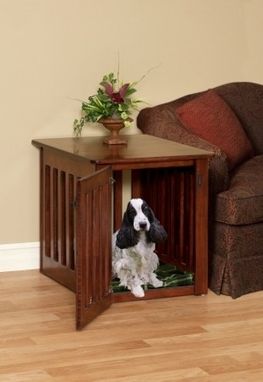 Wooden Dog Crate End Table in Maple Wood Medium SizeFrom pinnaclewc
An Amish wood dog crate end table that's also a stylish end table - what a great way to share space! Now your pet can set up house right in your living room or bedroom as a nightstand and you don't have to hide an awful metal mess every time company drops in.
Sturdy construction and a durable finish mean that you can enjoy your new table as much as your pet enjoys their comfy new house. Your visitors will enjoy it, too – your new furniture's sure to be a great conversation piece. When they find out it's actually an Amish wood dog crate, too, you can bet you'll be showing them where to find one for themselves!
Like all Pinnacle Woodcraft products, your dog crate end table is available in over 5 choices of stain color. We also make comfortable, durable mattresses (not included) to help make your pet's new house feel like home and protective plastic liners(not included) to make cleaning a snap for you.


• Great for small to medium-large dogs
• Solid wood construction in maple wood
o medium – 23" w x 29" l x 24" h outside 17" x 24" x23" inside
• Easy to assemble with our quick-connect fasteners (included)
• Saves space and eliminates the need for unsightly wire cages.