Engraved 3mm Stackable Ring In 14k Gold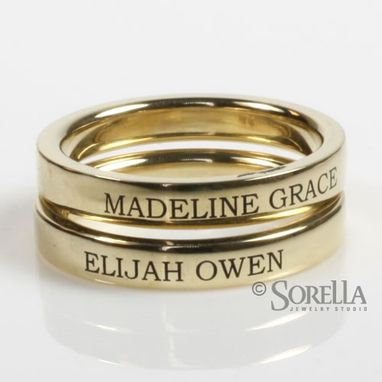 This engraved comfort fit flat band was created as a mother's ring and holds a child's name engraved in it's surface. Our customer ordered two bands, one for each child in the family.

The names are laser engraved for the most precise, deep, and lasting engraving.

This ring can hold names, words, dates, or symbols in any language. We work in platinum, palladium, 10k, 14k, and 18k gold (yellow, white and rose) and sterling silver.
Dimensions: Band Width: 3mm(can be created in wider widths)
All of our products are handmade
by expert makers.
Raquel E.'s review

• Dec 7th 2015

Working with Sorella was better than I expected. I am very pleased with my finished product. They consulted with me every step of the way, and they provided me with options that I wouldn't have originally considered. I would definitely work with them again and recommend them to others.

The experience was wonderful!

Debra R.'s review

• Nov 10th 2015

I love the stack rings that Sorella Jewelry made for me. They are beautiful and the ladies made them exactly to my specifications. Thanks so much!

Melissa S.'s review

• Nov 20th 2014

Beth and Lynn were wonderful to work with! With regards to the rings that I ordered they are beautiful. I wish they had a little bit more of the rounded look to them , to look more feminine, but after wearing for them for a week I have grown to like the square look.I have paired them with a diamond solitaire that I already have and get lots of compliments.

As for the "Experience" it was great. I was a little nervous about doing this over the Internet but when I received an email from them that was not "canned" it made me relax. Whenever I emailed with questions they were quick to respond. I mean same day. That means a lot to me because I don't want to have to wait days for a response. When I had explained to them what I wanted to do they were very upfront and honest about what I should get. The turn around time for completion was spot on. I only wish I would have known that I had to sign for the package, I'm never home when the UPS driver comes so I had to ask a friend and not knowing what time they would arrive, made it difficult. Other than that I can't complain. In fact because it is "Custom Made" I am in the notion to have them design a diamond band with my solitaire to wear and have it joined as one ring, with the 3 mm rings that I have now. However, I'm not sure how "Custom Made" they will go. I have the diamonds just need the band designed and the diamonds added and everything soldered together. I would like to do this because they spin and I would like the names to stay on top so they don't get ruined over time. This is only because after getting the rings, and looking at them I came up with another idea that would be even more beautiful. If you would be interested in hearing my idea and giving me an estimate, I would love to see what we could do.

I will definitely tell others and would not have a problem having them do future items for me.

Melissa Schroeder - A very pleased customer!

Coby Aldridge's review

• Mar 7th 2014

Rocky D.'s review

• Mar 14th 2017