Espresso Birch Recessed Media Center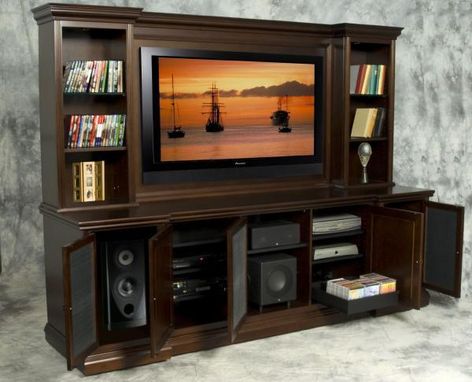 This custom media center was specifically designed to take advantage of the shallow nature of flat panel HDTVs. As an owner and designer for Diamond Case Designs, Inc. we are always looking for ways to take advantage of the latest technologies. One of the best ways to do that with flat panel TVs is to remove them from their stands and float them within a furniture system. Floating the TV inside the media center provides a much cleaner and far more built-in look than can be achieved by simply setting the TV on a stand. Furthermore mounting the TV to furniture is much easier and less costly than mounting the TV to the wall (you don't have to run wires through the wall, have an electrician install a power outlet behind your TV, or worry about dry-wall repair and re-painting).

On each side of the TV we designed some open display columns with this media center. This display columns are perfect for curios, books, crystal, or even media. The top of each display column had a recessed light which could be used in conjunction with an optional remote interface so the lights could be turned on, off, or dimmed from your armchair. All of the electronics comfortably fit in the bottom of the media center along with all three front speakers; left, center, and right. There is even room for a subwoofer right in the middle of this custom home theater furniture system.

This particular example is shown in an Espresso birch finish but your system can be custom made in your choice of wood and color. The TV shown here is a 60" plasma but again we will size the furniture to be ideal for your set-up whether that is a smaller or later TV. As with all custom Diamond Case media centers a host of professional features are built in such as hidden wheels, removable back panels, internal air channels, wire management room, and the option for high-capacity media drawers.
Dimensions: Examples like this are normally around 85" wide x 80" high x 24" deep.