Essex Elliptical Dining Table And Chairs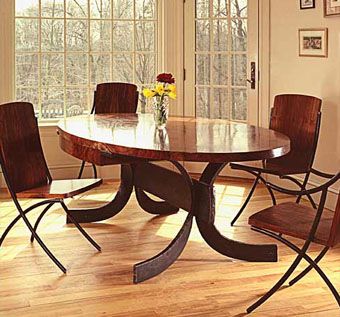 Sized to fit the dinning room shown, this single plank Claro Walnut dining table will comfortably seat 6. The hand forged solid steel base allows seating at any point along the edge. Hand cut dovetail drawers with matching faces afford readily accessible storage for place mats or flat ware.

With young children the clients asked that I round off the normally hard corners of the chairs. Initially resisted changing a successful design but resolve the question with partial ellipses. They were right and I am very happy with the result.

$30,000, price may vary with cost of materials.
Dimensions: 7ft Lx 4ft W x 2ft 5in H w/6 chairs