Eventide Art Tile Installation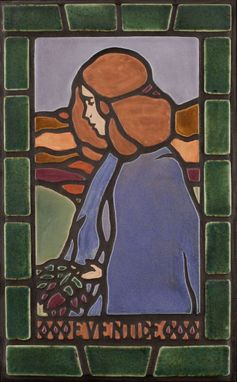 This art tile mosaic Eventide is an Arts and Crafts design from ca. 1910, originally created by the Hartford Faience Company; here reproduced with a few minor changes.

Eventide consists of several tile sections plus numerous border pieces, mounted securely to a rigid support or wall. Black grout defines the shapes and enhances the mosaic effect. Eventide has the look and feel of a carefully pieced-together image, much like a stained glass window, but made of tile.

The tile mosaic measures approximately 21 3/4" high by 13 1/2" wide. The tiles are 1/2" thick. When mounted on a support, the entire piece is approximately 1" thick. It is made of durable stoneware ceramic.

Dimensions: see description above