Extra Wide Remote Controlled Tv Lift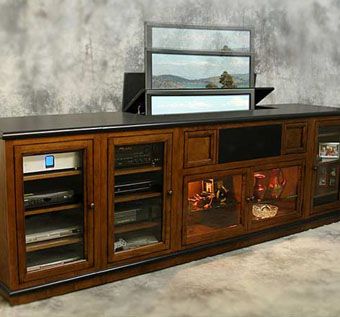 This photograph is a great example of an efficient and fun TV lift design. This particular cabinet was really designed with the dual purpose of organizing a large collection of home theater electronics as well as providing a beautiful area to display curio items. The left side of the furniture housed multiple audio video components that required a significant amount of cabling. To ensure it was easy to complete this wiring we built the furniture on a heavy-duty hidden wheel system and provided removable back panels. With these features all of the electronics could be loaded and wired from the back side with a completely unobstructed view of the connections. The middle and right sides of the furniture were really intended to provide display space. In fact, the area in front of the TV was outfitted with a pair of clear glass doors, thick adjustable glass shelves, and curio lights. Another unique element of this TV lift is the style itself. The crown and base moldings are a bull nose radius design and are finished in a semi-gloss black while the body of the furniture was finished in a contrasting but beautifully complimentary wicker color.
Dimensions: This particular TV lift measures approximately: 120" Wide x 37" High x 24" Deep. However, we will customize these dimensions larger or smaller to fit your TV and your room dimensions.