Fabric Covered Magnetic Memo Board - Home Decor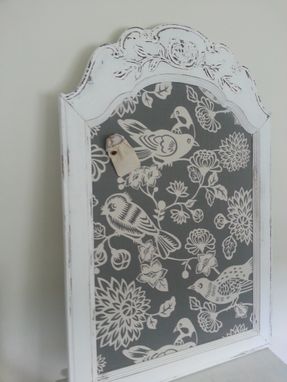 Old wood mirror frames get a "second life" as decorative magnetic memo boards or chalk blackboards for use at home or business. The refinished frames have been converted to beautiful wall hanging custom memo board made in the buyers selection of color and fabric pattern. Each frame is unique. Each individual piece is "one of a kind" and custom made to order.

This particular board measures 45hx29w and is sold.

A similar large piece that will look perfect in your home, store, restaurant, cafe can be made for you. You get to decide the fabric and the color of the distressed frame. Each frame is an old frame which has been given a second life as a memo chalk blackboard or fabric covered magnetic board.

Each piece is special as it is made for you or to give as a gift. Special wrapping and shipping for gifting is available. Will ship in the United States. * Will deliver in the San Francisco Bay Area and within the Central Coast, California. Inquire on cost by email.