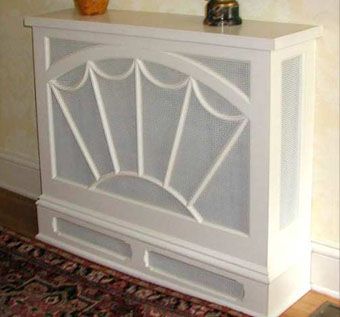 Materials: Poplar, BirchPW, Steel grille
Finish: White Enamel

This unusual radiator cover sits proudly in the elegant entry hall of a graceful 19thC. home in the historic section of Bethlehem, PA. It takes its form form the beautiful arched transom windows of the era and before. I made made several different types of covers for this job, each appropriate to its setting. They included a dark mahogany unit with furniture detailing and a black marble top for the dining room, a diamond-ullioned pattern for the library, and for the living room , two covers integrated with the room's base and chair-rail moldings. All include heavy-duty grilles (not the cheap home-center stampings) and interior reflective insulation, and were structured for optimum air flow.