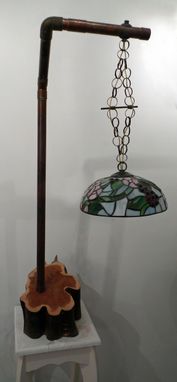 -Farmhouse Light-

This piece was made from recycled pieces while I was renovating an 1900's farm house in Lancaster County Pa. The creation from this piece started by the home owner asking what I did with the Tiffany style light fixture. I said I believe it accidentally got thrown out. How it got in the trash bag, I believe I wasn't thinking right at the time. I was in college at the time, had a part time job and working at night time deep into the night. So to put it this way- my mind wasn't all there, but I did manage to pull of a beautiful kitchen remodel. So to get back to the fixture. After the home owner asked about it, I searched through all of the contractor bags to find it covered in drywall mud. It took a few good days to clean it up with a toothbrush. I then took it to a local antique store to find out it is worth a couple hundred dollars. So after some brainstorming for a jewelry class that I was taking, I decided to make a light fixture. The project for class was to make some type of necklace with forging copper into loops. Well the sculptor came out in me, and of course I was the outcast of class making sculptural work in a jewelry class. Over the next few days at the farm house I gathered scraps to be incorporated into the light. Scrap pieces like the tree stump cut down from the front of the house, the old romex wire, the light fixture, and the old copper plumbing. So I used the stump as the base, the copper pluming for the upright, the old copper romex wiring to make the chain, and of course the beautiful lamp shade. And I created the -Farmhouse Light-

After this project was down, I fell in love with recycled materials. I learned that my creative level went up another notch and to think; there is so much beautiful rustic pieces that are being thrown away every day that could be created into beautiful pieces of art.
All of our products are handmade
by expert makers.