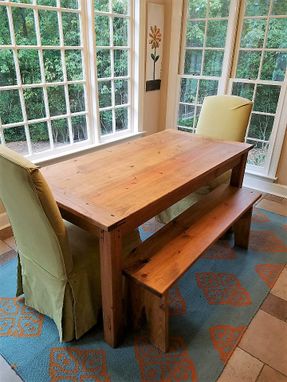 Handcrafted farmhouse tables using traditional constructions techniques, mortise and tenon joints, pegged bread boards, etc. There are many carpenters making farmhouse tables and selling them on the internet. Why choose one of my tables, I'll let my daughter tell you why. The following is taken from my web page:
Matthews Custom Guns, LLC motto was, "Let us build your next family heirloom." I borrowed it from dad after he passed away. In today's throw away society most people are not interested in heirloom quality products. Buy it... use it...discard it. But there are still a few people that have a desire for high quality handcrafted products. I hope you are one.... But the compliment that is closest to my heart is the one I received from my oldest daughter, she recently posted this on one of her social media pages. ""When I was around four years old my daddy built our family a farmhouse table, this was before "farmhouse tables" were a huge deal. In our house, eating supper as a family is something we try to do every night ( even with the twins' basketball practice & my night class) we still find time to gather around the table, eat, and share about our day. This table has seen many laughs and tears though the years. I will be 20 this upcoming year and our farmhouse table has become more than just a table to me but a place where tons of memories have been made." This is why I do what I do and the best part of my story.

Basic tables(photos 4 and 5 are $100 per linear foot up to 42" wide. Example... a 6 foot table 36 inches wide would be $600. Other tables are $125 per foot up to 42" wide. Example... 6 foot table 36 inches wide would be $750. Prices do not include sales tax. I do not ship the tables.