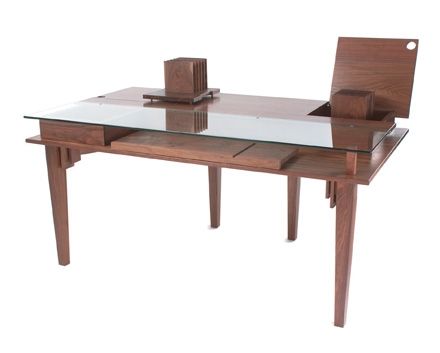 A design conscious desk for home or office that invokes the work ethic of the 1950s. The width and depth of the desk create a large, open work surface with a visibly accessible lower level for files, reference material, and other projects in progress. The hinged openings at the rear of the desk are made for either the Fattie desk files or for storing works in progress. The asymmetrical leg design creates ample leg room for conference style seating.

Shown in walnut with a glass top. Customizable for Length, Depth, Height (although reducing the depth will affect storage uses (i.e. to reduce to below 30" depth will make the storage bins less than 11" deep, unusable for standard paper)), # of drawers (0 – 4 drawers (if keyboard tray is eliminated), Opaque glass, Drawer hardware.
Note that there is a 2" skirt below the desk.

Dimensions: W 60" x D 35" x 29" H (customizable)