"Fiery Autumn Fused Glass"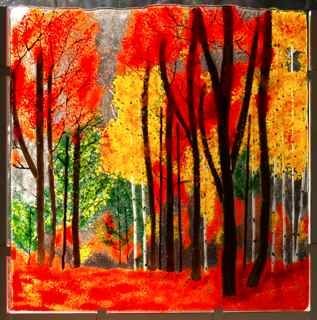 I create the glass pieces endeavoring to please the God that created all the scenic pieces I do! He gave me eyes full of color and it seems I get bolder every year! I just wish I could do a forest of purple and lavender...my favorite colors!
Dimensions: The original piece that was photographed was about 15" high and 12" wide. The piece could be up to 18" high or wide sitting in a black metal frame or hangers may be fused to it for hanging in a window.