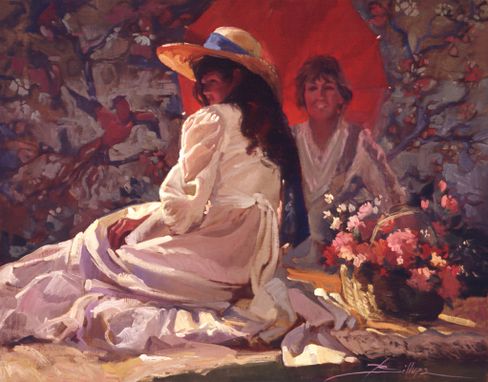 Most of these paintings are 28x22 and larger, prices range between $3600 and $17,000. All of these are on canvas, many are in private collections. You will need to contact the artist, if you are interested in any painting as they are shown here, to see if it is still available.

All of these paintings were done in the studio, using multiple references, sometimes up to 3 or 4, to create the compositions that you see here.

The piece with the ladies, baby and geese, in front of the tree line, I created/painted the entire back ground on location, known as plein air painting...standing in my dirt drive way...leaving space for the figures to be added in later, in the studio. Being 36x48, this was quite a challenge!!

Should you like any of these paintings that are already sold, let me know, send me samples of the colors you are needing for that special room, the size you want...and I will create a painting to your requirements.

However, any of these can be used to create an original creation, using your family members, and pets from cats and dogs to horses, to create an original to the size and color requirements that you may have.

In your choices of color, you can be the final deciding factor in this, or leave it to the artist...that can all be worked out.

AND if you have a special location, and should you want family members in a painting, even using one of these as the basic design for the painting, I will come to your home, and do a photo session, to capture you and your family into a new composition, or using one of these as shown here.