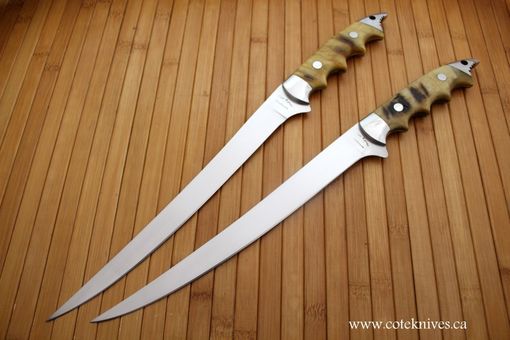 I had to have some special steel rolled out to my spec's to make my latest fillet knives...the steel needed top be thinner then what was available so my steel supplier had some of the best steel "CPM S35VN " rolled out at .070...this is needed to have excellent flex combined with edge hardness. The handle is Hamilayan Rams horn protected by front and back dovetailed stainless bolsters.
Blade length is 10" with an overall length of 15"
All of our products are handmade
by expert makers.
Jeff S.'s review

• Feb 5th 2016

Just received my project in the mail today. Fast shipping! Custom 7.5" fillet knife which came with a carrying case (the case was a bonus). Absolutely astounding quality and craftsmanship. Sharp and flexible blade with a very comfortable carbon fibre handle that just becomes an extension of your hand (as a knife should). Communication from beginning to end of the project was great. I always knew the status of the project, with Mr. Cote contacting me at regular intervals and at any major step of the project. Pictures and tracking numbers were also sent when available. Highly recommend his work!